#UnasnmAgm2018
|
The choice of having a nursing and midwifery school host any unasnm event
is informed largely by: (1) the need to have some form of regional balance, (2) provision of utilities & other services at no/minimal cost by the host school, and perhaps (3) the geographical location of the host school -- it should be relatively easy to access. This criteria, however, is not a must follow as it's not scribed into the text of the association's governing documments. A decision on a host school is at the discretion of the acting executive committe at any one time.
Mr Frank's national executive committe
, however, follows this criteria in choosing a host nursing school for any of it's events. And so it was the case with the selection of Mildmay Uganda nursing and midwifery school. (
See article
)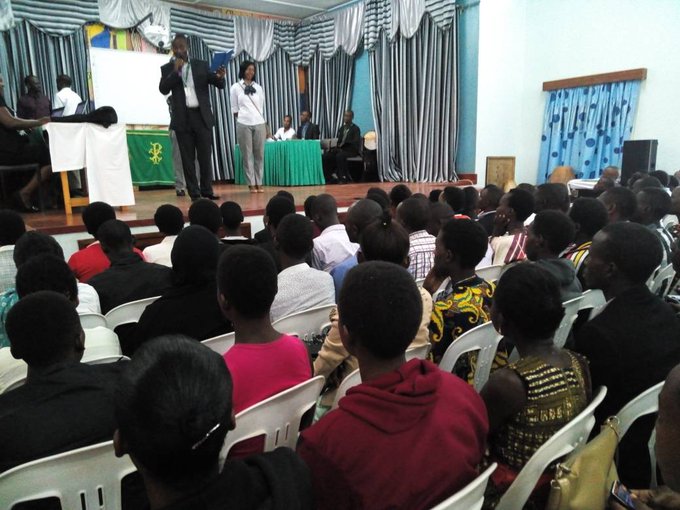 Photo: Mildmay Uganda twitter feed
From a regional stand-point
, Gulu nursing school [northern region] had played host to 2017's unasnm consultative meeting together, with the
All health training institutional games
. Fortportal International nursing school [Western region] hosted the 2017 september unasnm seminar. International Institute of Health sciences Jinja [eastern region] hosted
unasnm's April 2017 national seminar
. The region left was central Uganda. It's with this backdrop that Mildmay Uganda was considered together with another nursing school as potential host for the unasnm's Annual General Meeting (AGM). Mildmay Uganda nursing and midwifery school emerged the better candidate.
On other no-cost services that a potential host school should offer
inorder to be considered, Mildmay Uganda was to provide utilities -- water, electricity -- and accomodation at no cost.
The Ofualoka Post
also understands that Mildmay had requested to be considered as host for future unansm events. This may have significantly helped tilt the balance in it's favour.
Adding to that
, the central region's ease of access from any region of Uganda due to it's geographical location and well developed infrastructural connection to the rest of the country, makes it ideal for most unasnm events. It can equally be said that many roads lead to central Uganda.
About Mildmay
Mildmay Uganda
, in a 2017 advert, describes it's self as a christian non-governmental organisation (NGO) that offers general and HIV/AIDs related medical services. It does this in 16 districts of Uganda. It's equally "an accredited insitution of higher learning offering academic and short courses in health care." It's situated along Entebbe road, Lweza. As of it's 2017 in-take, the institution offered courses in; medical records, child counselling, peadiatric palliative care, clinical medicine, medical laboratory technology as well as nursing, and midwifery etc at both certificate and diploma levels, with some courses at Bachelors level.